Where to start?
Well, it's been a busy week!
I was asked if I would consent to being filmed this week as part of my job and it's been a bit more than I first thought!
I work for my Local Authority as a support worker out in the community and as usual it's time to evaluate everything to see what is deemed a valuable service...
So this week was the week that was!!
Two Camera men showed up and followed me around for a bit on Thursday.
***** I think not!! *****
I'm not sure what they'll eventually put out but so long as the boss is pleased and I don't look like...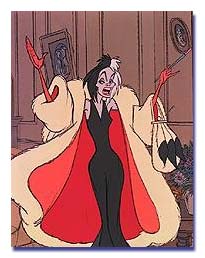 Cruella De Vil!
I'm sure it'll be fine or should I say...
'it'll be alright on the night' LOL!
On the other end of things - I'm glad I had another focus this week as Coo is poorly yet again.
we've had 3 couses of anti-biotics since Christmas and we're on the dreaded anti-bio merry-go-round once more!
Thank goodness it's a
Looby night tonight
as I sure need the sleep!
maz x